… with a new team and new energy
Ortrand (January 27, 2023). PTO Polymer-Technik Ortrand GmbH (PTO) is entering 2023 with new personnel and new energy. "Despite the omnipresent shortage of skilled workers and personnel, we succeeded in recruiting 16 new competent employees for the PTO team in 2022," Managing Director Alexander Bergk is pleased to report. Further new hires are planned to cope with the good order situation. In addition, the company is making itself more independent in terms of energy supply with a new photovoltaic system.
PTO offers new colleagues good prospects
"The new colleagues will help us in the current heavy workload, but we are always looking for motivated employees. We offer them a diverse range of tasks at Po-lymerTechnik Ortrand and ensure good prospects for their long-term development with us," says Alexander Bergk.
Production manager Stefan Blümel emphasizes the diversity and variety at PTO: "The new employees work in different areas of production. In order to be able to cover different areas of responsibility, they rotate again and again and thus constantly gain new insights." As a manufacturer of elastomer and silicone-coated textiles for industrial and medical applications with around 190 employees, PTO is one of the most important employers in the Upper Lusatia region.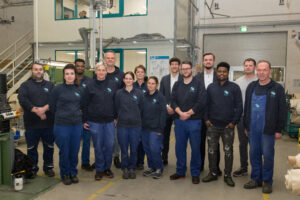 Group picture of the new colleagues with the management of PTO.
Photo: PTO Polymer-Technik Ortrand by Alexander Frenzel
More independence thanks to new photovoltaic system
In the meantime, PTO's investments in renewable energy systems are showing their first visible effects: For example, modules of a new photovoltaic system have been installed on the roof of production hall 3, which is scheduled for completion by summer 2023. PTO will thus be able to cover around 400,000 kilowatt hours per year (kWh/a) from its own sources in the future, which corresponds to a share of around eleven percent of the company's electricity requirements.
"The new plant not only gives PTO more independence in its energy supply, but also avoids the emission of around 195,000 tons of climate-damaging carbon dioxide (CO2) per year," explains Christian Forkert, Head of Technology. In order to become more independent in the supply of energy and gas, further investments are in concrete planning at PTO. "As a supplier of critical infrastructure, energy supply security is of enormous importance for our manufacturing processes," says Managing Director Alexander Bergk.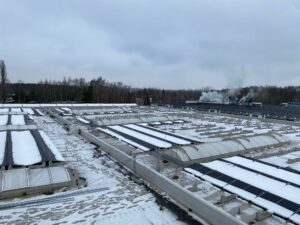 New photovoltaic bearings on the roofs at PTO
Photo: PTO PolymerTechnik Ortrand
Background: Measures initiated for production security
In order to ensure the greatest possible production security and thus also supply security, the HÜBNER Group has initiated several measures. These include investments in local energy storage solutions and alternative fuels in order to be able to produce with these redundant systems even in the event of possible supply bottlenecks.
The Ortrand site is of strategic importance for the entire HÜBNER Group, to which PTO belongs. PTO manufactures elastomer and silicone-coated textiles for the group of companies with 3,500 employees worldwide, which are used, among other things, in transition systems of rail and road vehicles. With its products for a wide range of industrial and medical applications, PTO makes an important contribution to maintaining many processes in critical infrastructure and public life.